Winter Activities in Mammoth (Yes, even if you don't ski!)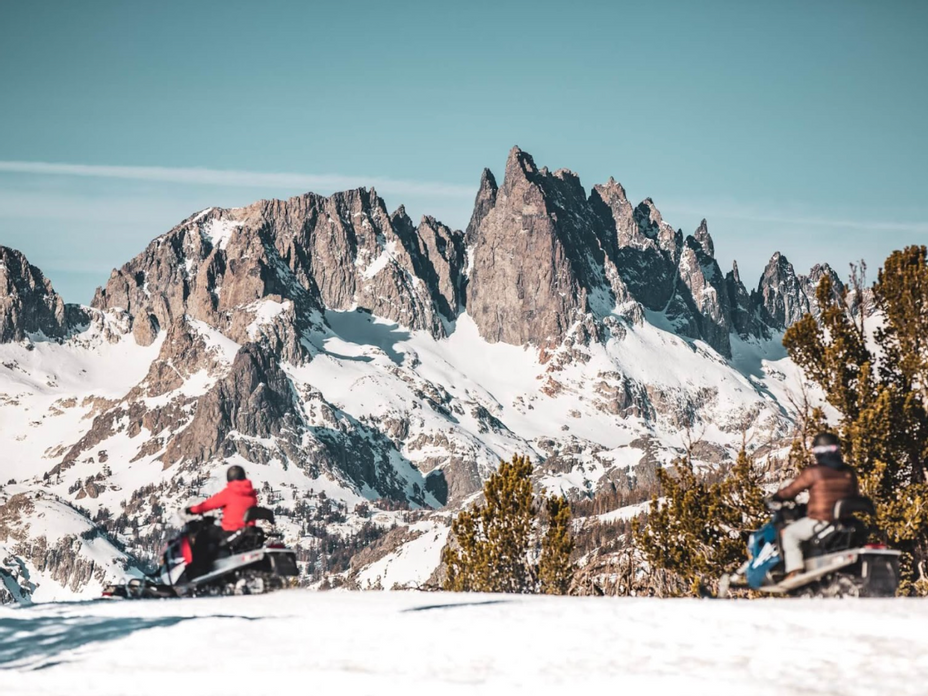 The holiday season is here and there is no better place to spend the happiest time of the year than in Mammoth Lakes, CA. Although skiing is one of the most popular activities here during the winter, there are also countless other ways to spend your time out in the stunning natural landscape. Learn more below!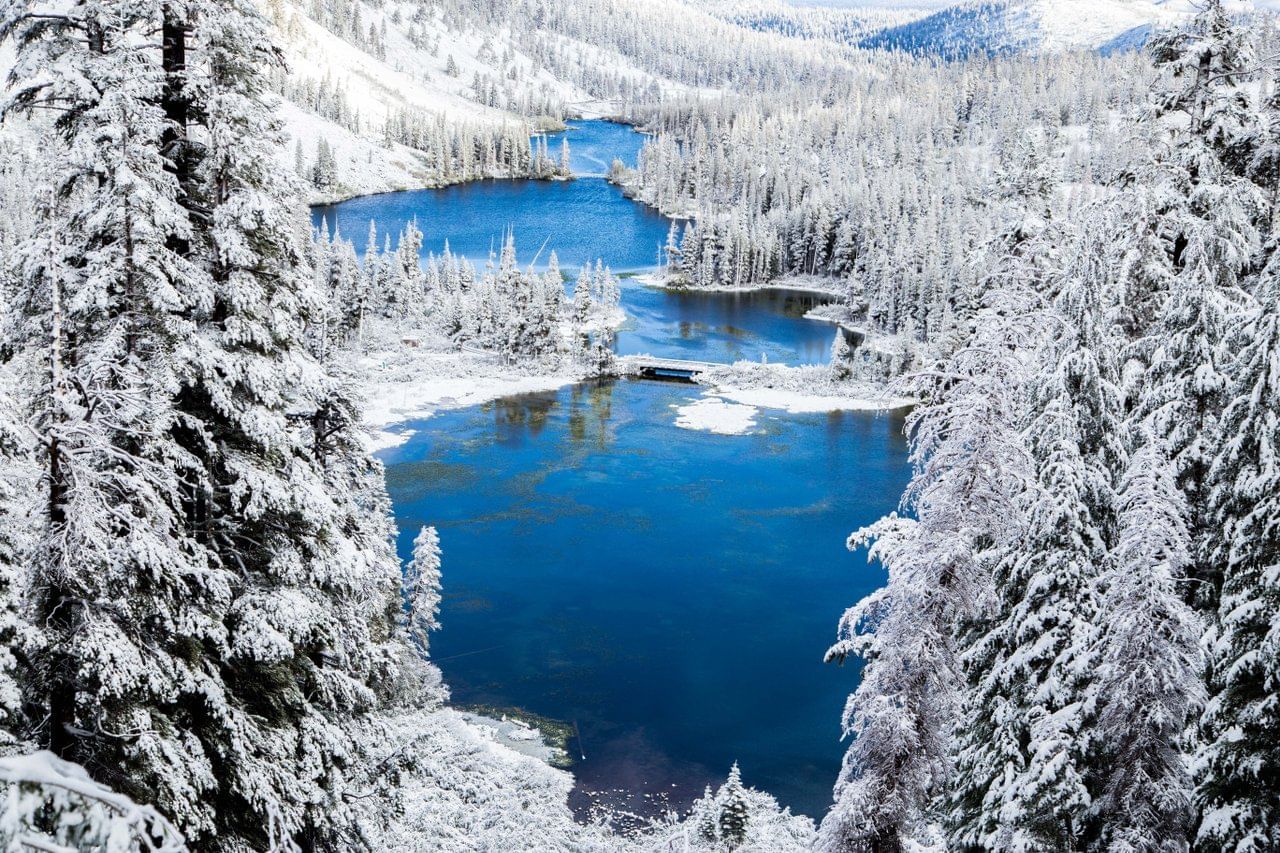 Ski or Snowboard at Mammoth Mountain
Mammoth Mountain is great for all levels, with options ranging from expansive bowls, tree skiing, wide groomers, steep chutes, halfpipes, to the world-class Unbound Terrain Parks. Don't miss out on this iconic mountain!
For disabled visitors, learn more about the incredible opportunities Disabled Sports Eastern Sierra offers. DSES is a 501(c)(3) non-profit organization providing year-round adaptive outdoor recreation for people with disabilities throughout the Eastern Sierra. They offer skilled guides and instruction to support guests in a variety of activities, including ski and snowboard lessons, mountain biking, road cycling, hiking, and Adventure Center activities. Learn more at disabledsportseasternsierra.org
Skip the Lift and Enjoy Uphill Access at Mammoth Mountain
Skip the lift and get your lungs burning. Mammoth Mountain offers 3 uphill routes that are easily accessible from each of the base lodges. Be sure to be in the know of all uphill access rules and safety information, as well as weather and conditions reports, before you start ascending.
Go Tubing at Woolly's Tube Park & Snow Play
For the ultimate snow tubing experience, head to Woolly's Tube Park & Snow Play, where you can zip down the hill without worrying about the walk back to the top. Or head out to explore some DIY sledding and snow play in the many public snow play areas in Mammoth Lakes.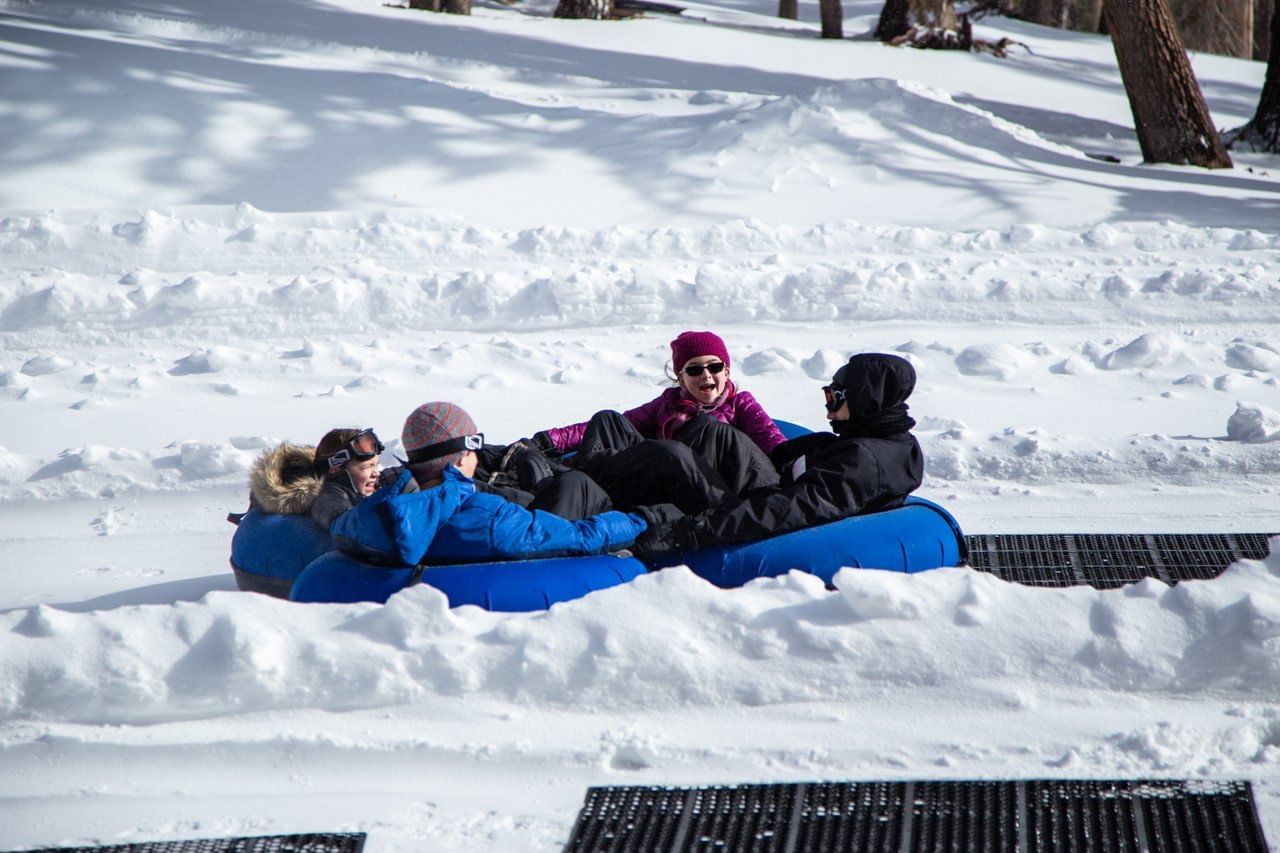 Take an aerial ride up Mammoth Mountain on the Panorama Gondola to explore all the fun at 11,053 ft. At the top, snap a selfie at the summit sign, enjoy lunch with panoramic views at the Eleven53 Café, and discover the history and wonder of the Sierra at the interpretive center.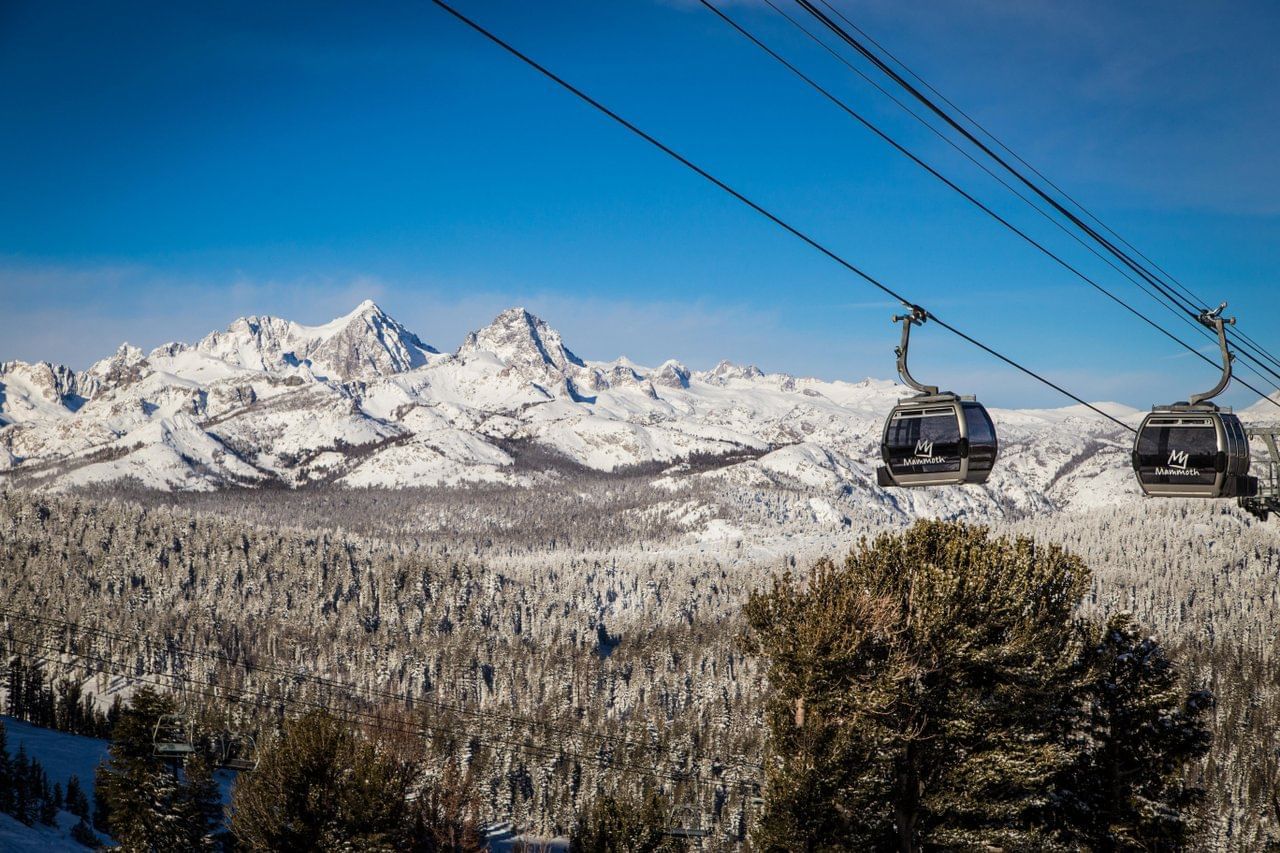 Come enjoy traditional family fun and gorgeous mountain scenery at the Mammoth Lakes outdoor ice rink. Located behind the Mammoth Lakes Public Library and nestled against a beautiful alpine meadow, the ice rink offers spectacular 360 degree views of the Sherwin's and the great White Mountains. Sunsets can be especially spectacular here.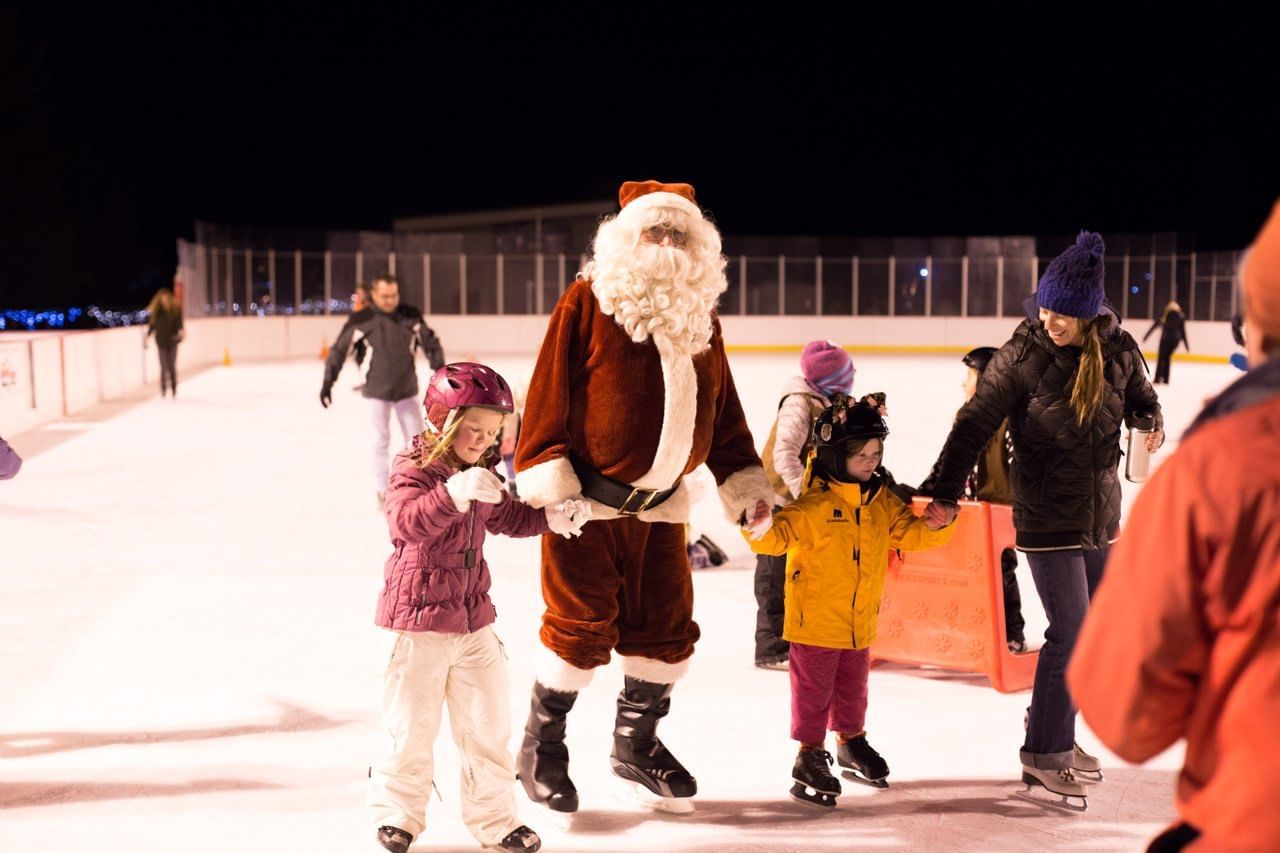 Snowshoe the scenic trails of Mammoth
Hiking season doesn't have to be over when the snow starts to fall! Snowshoes allow for access to a wide variety of trails in the wintertime!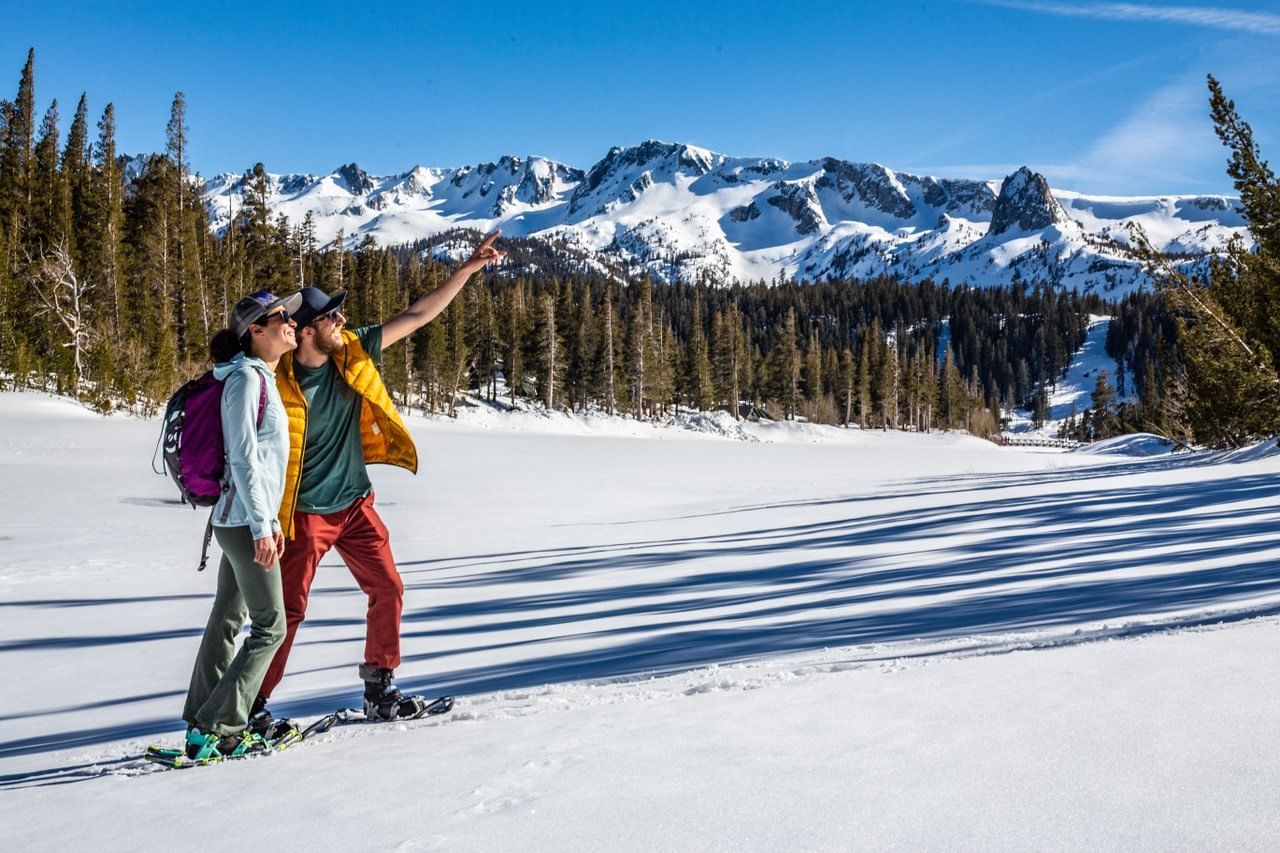 There are dozens of groomed and snowmobile-packed trails accessible from the winter staging areas at the Sherwins Trailhead, Shady Rest, Main Lodge, the Mammoth Scenic Loop and the end of Lake Mary Road. But the real magic of snowshoes is their capacity to take you off-trail and across the powder, wherever you choose to go. Use them to explore the back woods and meadows at the base of the Sherwins or to climb Panorama Dome, summit the Inyo Craters or stroll along San Joaquin Ridge above Minaret Vista.
Go Cross Country Skiing at Tamarack Cross Country Ski Center
Kick your winter up a notch and get in great shape this season. Explore the Mammoth Lakes Basin on cross-country skis or snowshoes for some scenic family adventures or butt-kicking fun across 19+ miles (30+ kilometers) of secluded, groomed world-class trails. Rentals, lessons, guided tours and season passes are available from the Tamarack Cross-Country Ski Center, located at Tamarack Lodge.
With access to 80 miles of groomed snowmobile trails and 75,000 acres of open expanse, the Eastern Sierra delivers some of the best snowmobiling in the West. An average annual snowfall of 30-plus feet, varied terrain, and spectacular scenery draw visitors from all over to experience snowmobiling at its best.
Guided snowmobile tours and self-guided trips make it easy for visitors with all levels of experience to enjoy this exciting winter activity in Mammoth Lakes.
Winter recreation maps and information about trail conditions are available at the Mammoth Lakes Welcome Center and on the Inyo National Forest website. Click this link to learn more about Mammoth Mountain's guided, scenic, 1.5-hour tour. It is the perfect opportunity to get a taste of how breathtaking snowmobiling can be.
Enjoy the heated comfort of a luxury snowcat tour up to one of Mammoth's most scenic spots where you can take in the spectacular views of Mammoth Mountain, the Minarets, Ritter Range and beyond. At the vista, toast to the landscape and enjoy a spread of delicious eats. Each snowcat holds up to 12 people. All tours are approximately two hours.
Take Beautiful Photos at Convict Lake
The reflection of this beautiful lake holds its beauty through the winter. Visit for a short hike/snowshoe or just a photo op!
Learn more and book with Sierra Drifters at: https://www.emailmeform.com/builder/form/iI9wMTejv5oP3R05L5Gl0Bz
Whatever you decide to do this winter in Mammoth Lakes, let our team at the Alpenhof Lodge help make it special! Our lodge is located in close proximity to all of the incredible activities our little mountain town has to offer. Book with us today at https://www.alpenhof-lodge.com/